Rod Wilks
Tennessee Volunteers —

No.

22</span>
DB
Freshman
Date of birth: November 12, 1988
Place of birth: Smyrna, TN
Height: 6 ft 0 in
Weight: 220 lb

Career history

High school: Smyrna High School
 College: University of Tennessee

Career highlights and awards

2007 Class 5A Mr. Football Back of the Year
2007 First Team All-State
2006 First Team All-State
2007 All-Midstate Football Player of the Year
2007 Blue Cross Bowl Defensive MVP
2007 No. 2 Prospect on Knoxville News Sentinel Top 25
Rodriquez Martell Wilks is a current player for the University of Tennessee football team.
Early Career/High School
Edit
Rodriquez Martell Wilks was born on November 12, 1988 in Smyrna, Tennessee. An early standout in football, he entered Smyrna High School in August of 2003. However, he would not become a staple of the Smyrna team until 2005, when he entered the team as a wide receiver and cornerback. In 2006, he caught 60 passes for 945 yards and 16 touchdowns, while Smyrna won the Tennessee 5A State Championship. Also was named to the All-Region team.[1]

2007 was a breakout year for Wilks, as he caught 77 passes for 1,170 yards and 20 touchdowns. Also, that year, he returned punts and kickoffs for touchdowns as well. As a defender, he had 62 tackles and 6 interceptions. That year, he won the Mr. Football award in Tennessee, and was the defensive MVP of the BlueCross Bowl, the Tennessee State Championship Game, as Smyrna went back to back for state championships.[1]
Recruiting
Edit
Rod Wilks was rated a 3 star prospect by both Scout[2] and Rivals.[3] ESPN gave him an 82 out of 100 on the scouting grade, and compared him to Larry Fitzgerald in the style of play. [4]
Wilks made the decision to attend the University of Tennessee on September 19, 2007. Other schools that he was considering were University of Alabama, Georgia Tech, and University of Kentucky.[3]
Career at Tennessee
Edit
Wilks saw no playing time during the 2008 season because he was redshirted, however some think he will play a very important part in the future of Tennessee football under new head coach Derek Dooley
Rod Wilks "Facts"
Edit
Wilks has become notable of sorts, as the VolNation.com message boards have created legendary tales about Wilks. Not malicious in nature, and very similar to the famed Chuck Norris Facts and Bill Brasky skits on Saturday Night Live, these jokes have become a staple of the VolNation.com message boards.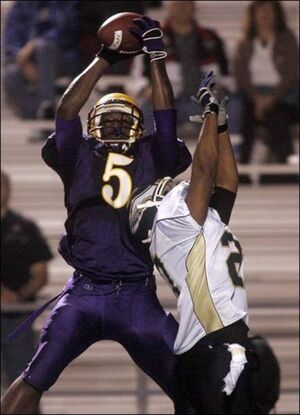 The origin of the outlandish tales is a form of satire of a VolNation.com poster from the town that Wilks is from (Smyrna, TN). This poster posted regulary about stories of Rod Wilks, thus, it originated as something making fun of that poster. It has grown to be a local legend between Vol fans, not just those on VolNation's message boards.[1]

General Rod Wilks Jokes from Volnation.com:
Rod Wilks doesn't do push ups, he pushes the Earth down.
Rod Wilks made a burrito so hot God couldn't eat it.
Pilots have done away with the term "turbulence". from now on, they are to say, "We are experiencing a bit of Rod Wilks right now".
Rod Wilks owns a Unicorn breeding farm.
Rod Wilks is listed on the Tennessee Football roster as a "Designated Hitter".
In a fight between Kimbo Slice and Mike Tyson. Rod Wilks would win.
Rod Wilks once won the Daytona 500......on horseback.
Rod Wilks can do a wheelie on a unicycle.
Rod's schedule goes straight from March 31st to April 2nd, because no one fools Rod Wilks.
When questioned about the Vegas shooting incident, Pacman Jones said he was just giving dollars "making it Rod Wilks."
It is in the NCAA Football rules that if Rod Wilks is on the defensive side of the ball then only 3 down linemen and a line backer are allowed to be on the field with him.
Rod once broke the land speed record on a bicycle with no chain and no back tire.
Rod Wilks is the only man to shoot a hole in one during a football game.
Word going around that the bright 'meteor' in the sky that was supposodely seen in Texas the other day, actually turned out to just be Rod Wilks running the 40
Thor's hammer is on loan...from Rod Wilks.
Rod Wilks once shot and scored a 5 pointer in a High School Basketball game.
Rome wasn't built in a day. Only because Rod Wilks wasn't supervising the job.
I heard that Rod Wilks heard his page might get deleted and in retaliation he deleted...Switzerland.
Barry Bonds and Alex Rodriguez had to take steroids because they could not take Rod Wilks.

In response to Rod Wilks getting redshirted:
The only red shirts Rod Wilks wears are those worn after his bloody rampages on the field.
This guy could make the Pro Bowl this year if he were in the league. Unbelievable.
I think the correct phrase when Rod Wilks sets back a year of eligibility is "Platinum Shirting"

In response to someone looking for help on cameras:
If I were you I would call the UTAD and get Rod Wilks telephone number.

On Tennessee's Pre-season ranking in 2009:
We may not be ranked pre-season, but Rod Wilks alone will be at least 18th.

On NCAA Secondary Recruiting Violations:
Is it a secondary violation if Rod Wilks and Coach Ed Orgeron go shirtless at the same time?

On a chance encounter with Rod Wilks:
I was in the Athletic dorms one day visiting my buddy who plays baseball. Walked by the restroom and saw Rod Wilks brushing his teeth with barbed wire.

On Rod Wilks place on the 2009 Football team:
My anonymous source said Rod Wilks will be both punter and long snapper.
Rod Wilks refuses to play safety, because around Rod Wilks, no one is safe.
Cite error: <ref> tags exist, but no <references/> tag was found
Ad blocker interference detected!
Wikia is a free-to-use site that makes money from advertising. We have a modified experience for viewers using ad blockers

Wikia is not accessible if you've made further modifications. Remove the custom ad blocker rule(s) and the page will load as expected.